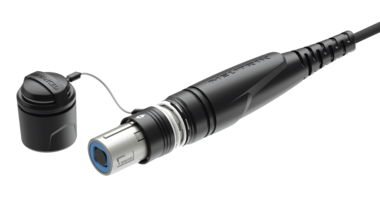 opticalCON QUAD Cable
The opticalCON system is based on LC connectors but eliminates its weakness and guarantees a safe, dust protected and rugged connection. The opticalCON QUAD is based on the proven opticalCON DUO connection system but with four channels it is optimized for Point-to-Point interconnections and multi-channel routing applications. The system copes with the increasing need for fiber optic channels.
The opticalCON QUAD cable connector accommodates four PC optical channels based on conventional and proven LC connectivity protected by a ruggedized and durable all-metal housing. It features a spring loaded push-pull locking mechanism and an excellent cable retention utilizing aramid yarn. The optical connection is exceptional well protected against dirt and dust by an automatically operated sealing cover. The cable connector comes pre-assembled and is not available as a single component. The cable is available in different lengths and is packed either in a case, on drum or airspool.
3 Products